Last nights draft began the 4th year of an 8-team fantasy football league composed of a group of mutual friends (well, most people anyway...). Since its inception it has been a league in which you are able to keep 2 players in place of your first two picks. To decide the order in the first year we drew names out of a hat and fortunately for me I was given the first pick who would turn out to be LaDainian Tomlinson.
As I seen last night the decision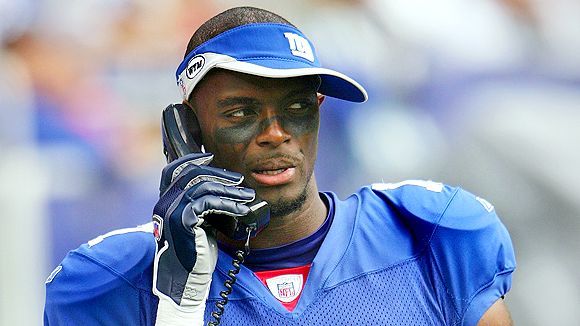 of keeping players can be and was a double edged sword. On one hand, if you keep two players you know you will have at least two players that you really like. On the other hand, if you keep two players it is very possible that you could have picked one of your keepers with your 4th pick or 5th pick (Even Plaxico Burress was surprised when he received word from his agent that he was a 1st round keeper); potentially getting less value in the top few rounds. Not to mention Drew Brees was the 4th QB taken so the potential for value was definitely available in the later rounds. In an attempt to be all about football for the next couple weeks leading up to the NFL regular season I thought I'd break down some of the best and worst individual picks as well as the best and worst draft bodies of work.
Best picks-
Drew Brees - Pick 40, 4th QB taken
- Widely considered highway robbery during the draft, landing Drew Brees at the turn of the 5th/6th round in an 8 team league should be the steal of the draft. With the addition of Jeremy Shockey its hard to envision the Saints moving towards a running offense - especially since their electrifying player is Reggie Bush who has proved thus far in his career to be a Devin Hester clone, at best. Needless to say he needs to get the ball in space, not at the line of scrimmage. Most notably Brees was taken after 4 tight ends and two rounds
after
Carson Palmer.

Others- Kevin Smith, 10th round (74th overall) and Matt Forte, 12th round (92nd overall).
Both rookies have similar questions marks circling their draft status. Fortunately for both of them and their owners, neither have respectable competition on their respective teams to challenge for the starting role. Both backs will start from day 1 and likely produce...at least better than Cedric Benson and Tatum Bell. While their offensive lines aren't necessarily strong both players are capable of ripping off the big play their owners will likely only need them as a spot start while their starters are on a bye week. If everything goes right they could develop into 2nd or 3rd tier running backs in their first year. Very good value in the 10th and 12th round.
Worst Picks-

This draft was peppered with bad picks. With managers ranging from Kevin Pritchard to Isiah Thomas status this was bound to happen.
Jerricho Cotchery - 4th round, 31st overall, 11th WR taken -
Jeez, I didn't expect Jerricho Cotchery to go before Wes Welker, Marvin Harrison, Chad Johnson, Torry Holt
, Anquan Boldin, Brandon Marshall, Roy Williams, Santonio Holmes, or Calvin Johnson. That's just a little early. Cotchery should be good with Jet Favre in town but that was just a little bit of a reach.
Rob Bironas - 8th round, 75th overall, 1st of 7 drafted -
This draft was one of the only drafts that I've actually drafted a kicker. Even in 12 man leagues I would pass on a kicker and use one on a week to week basis. To Robby's credit he DID kick 8 FG's in a single game last year, but aside from that, he was average at best. On this particular team a kicker was drafted before the W/R position was drafted. Confusing, very confusing.
Best Draft:
In my opinion "Marion Jones" had the best draft of all. It doesn't hurt that this team had the top 2 rated RBs as keepers from a year before but getting Drew Brees in the 5th/6th round turn was ridiculous. Every starter is a bonafide fantasy stud and the backup's are number 1 or 1B at their respecitve positions. Best pick was Brees, questionable pick was Edgerrin James in the 6th as a W/R player with Boldin still on the board.
Worst Draft:
The worst team on paper with the least amount of upside is the "WillieTimers." Dubbed the "all-injury team" early on this team will be trading assets very soon. This team is built on keepers Randy Moss and Reggie Bush and looks to rely heavily on Ronnie Brown's reconstructed leg to carry the load. Brown could be nice (and was the best player in fantasy before his injury last year) but early reports out of Miami is that Ricky Williams has looked solid. Best pick was Jamal Lewis (health permitting) worst pick was Cotchery in the 4th.
Team that could go 5-10 or 10-5:
"Adam The Real Pac Man Jones." This owner began with keepers Joe Addai and Tony Romo. Studs at both positions. Next picks were Larry Johnson, Darren McFadden, Kellen Winslow and Brandon Marshall. Will LJ be LJ of 2006 or LJ of 2007 after sitting out half the season? I believe he is poised for a 2006-lite year somewhere around 14 total TDs and 1,500 total yards. If this happens it LJ would likely be the steal of the draft if it doesn't this team will be relying on its other running backs that outside of Addai is composed of 3 rookies and Selvin Young in the revolving door backfield in Denver. WRs Brandon Marshall (suspended 3 games to start 08), Calvin Johnson, and Greg Jennings are solid on paper and lets face it, freak athletes, but have major question marks: suspensions, Jon Kitna, and Aaron Rodgers.
I tend to think these players will be okay as well. With that said I believe this team hits more home runs than strikeout's. Prediction - 9-6, playoff appearance. In my opinion Darren McFadden will prove to be one of the steals of the draft as well with his keeper league value. He has all the tools to be electric and have an Adrian Peterson type rookie season. Surprisingly, the Raiders were one of the top 5 rushing units last year with the combination of LaMont Jordan and Justin Fargus leading the way. If Fargus can have a 1,000 yard rushing season what do you think McFadden can do? Yikes, could be a monster 1st year. I envision Oakland using DMF similar to the way San Diego uses LT. Lots of carries, lots of catches, and the occasional TD pass (LT has thrown 6TD passes in the last 3 years). Let the games begin!
What have been your biggest draft steals/busts and what draft stories do you have? We all have them (I drafted Jerious Norwood with my 2nd pick in a 12 team draft last year...Ouch).